National Parks, Game Reserves, Regions & more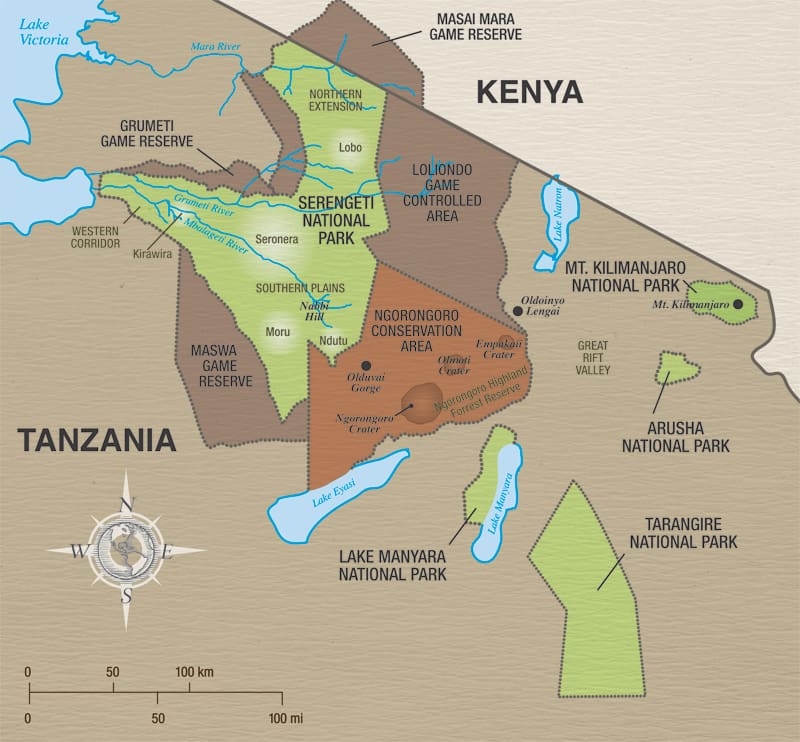 Great Migration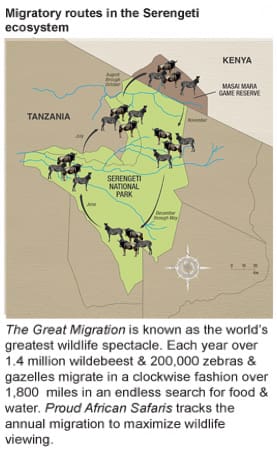 Serengeti National Park
Best time to visit: Year-roundUnique qualities: Home to The Great Migration for the majority of the year. Also boasts of the highest population of predatory carnivores in Africa, including over 2,000 lions, 1,000 leopards, 500 Cheetahs & 9,000 Hyena
Ngorongoro Conservation Area
Best time to visit: Year-roundUnique qualities: The Ngorongoro Caldera (though mainly referred to as a "crater") is home to the endangered Black Rhinoceros, along with 25,000 – 30,000 various animal species who are mainly residents.
Lake Manyara National Park
Best time to visit:June-MarchUnique qualities: Known for its tree-climbing lions & high numbers of Olive Baboon troops. Though small, it supports a large biodiversity of flora & fauna and is a breeding site for various storks, pelicans& flamingos.
Tarangire National Park
Best time to visit:June – FebruaryUnique qualities: Known for its high density of elephants, and abundance of ancient-looking Baobab trees which are referred to as "the trees of life". Also a great location to photograph leopards, spot rare wild dogs, and look for tree-pythons…
Arusha National Park
Best time to visit: May – MarchUnique qualities: Surrounded by a montane forest & the 7 Momela Lakes – each with its own color due to mineral content. Hikes to the waterfalls are enchanting while encountering Colobus Monkeys, rare forest birds & flamingos. Spectacular views of Mt. Meru & Mt. Kilimanjaro.
Mt. Kilimanjaro National Park
Best time to visit: December-February, July-SeptemberUnique qualities:Highest peak in Africa at 19,336 ft. Includes six usual trekking routes to the summit and other more-demanding mountaineering routes. The ascentof the slopes is a climatic tour from the tropics to the arctic; from lush vegetation to ice & snow..
Kenya's Masai Mara Game Reserve
Best time to visit: July-October Unique qualities: The northern continuation of the Serengeti Ecosystem which supports The Great Migration. Members of "the Big 5″ found here along with numerous ungulates. There are terrific viewing opportunities for lion prides and cheetahs.
Grumeti Game Reserve
Best time to visit: June-August Unique qualities: A remote corner of the Serengeti on the banks of the Grumeti River – famous for its wildebeest crossings and enormous Nile crocodiles! Hippos, lions, cheetahs and leopards are also regularly spotted here.
Ngorongoro Highlands Forest Reserve
Best time to visit: July-April Unique qualities: Home to elephant families (the females rarely visit the crater floor), forest antelopes, buffalo, leopards & other nocturnal animals. A "montane" (not rain forest), is a very important water source for the people, animals and farmland around the conservation area.
Loliondo Game-Controlled Area
Best time to visit: July-September Unique qualities: Loliondo Village is fantastic for cultural tourism with people of the Maasai tribes. Night game-drives are possible when staying at the camps within the concession.
Maswa Game Reserve
Best time to visit: N/A for photo safaris Unique qualities: Consists of river valley thickets, acacia parkland and open plains. The wildebeest pass through in January & February then move to the southeast & southern plains of the Serengeti.
Northern Extension
Best time to visit: August-November Unique qualities: Considered the backbone of the Serengeti Ecosystem. A dry-season refuge for the wildebeest migration with permanent water source via the Mara River. Witness heart-pounding moments as thousands of wildebeest risk their lives to cross the river and avoid the jaws of the Nile crocodiles!
Lobo
Best time to visit: July-November Unique qualities: The primary path for the migration when traveling North to the Mara River and when returning South. This region supports an incredible number of resident animals, particularly lion prides and leopards. There can be awesome predatory hunting action during the time of plenty.
Western Corridor
Best time to visit: June-August Unique qualities: A region considered to be one of the most primal wildlife viewing areas in the Serengeti. You're sure to see Nile crocodiles co-existing with schoolsof Hippopotamus, Marabou Storks flying over-head with theirincredible wing-spans, Cape Buffalo grazing, Baboon troops foraging, lions and hyenas hunting.
Seronera Central Plains
Best time to visit: Year-round Unique qualities: Home to a high concentration of big cats: Lions, leopards & cheetahs. Supports a large number of resident ungulates throughout the year which means good hunting grounds for predators. Also a main route for the migration when coming from South, West & North.
Southern Plains
Best time to visit: Year-round Unique qualities: Dominated by vast and seemingly endless short grass plains. Also supports a high number of big cats and ungulates throughout the year. These plains come alive between December and May when the wildebeest migration pass through in search of fresh green grass after the rains.
Ndutu Woodlands
Best time to visit: December-May Unique qualities: The wildebeest calving season takes place in February & March and these woodlands provide the perfect environment for them to do so. During the rainy season it is the best place to see leopards and cheetahs. The woodlands support resident animals throughout the year and Maasai graze their cattle here as well in the dry season.
Moru
Best time to visit: June-March Unique qualities: A protected area for Black Rhinoceros. Also, rocky outcrops called "kopjes" are spotted all over this region. Historical hand-paintings dated back 200 years can be found on some of the kopjes. There is also a musical rock called "Gong Rock" which was used by an ancient people.
Attractions in and near the Ngorongoro Conservation Area:
Ngorongoro Crater
Best time to visit: June-April Unique qualities: Largest Caldera with free intact wall. Houses 25,000-30,000 different species, mainly resident animals. Home to the rare & endangered Black Rhinoceros. Used by animals and Maasai Pastoralist during the dry season
Olmoti Crater
Best time to visit: June-April Unique qualities: Remote, pristine & great for walking safaris. See Maasai grazing their livestock, and resident animals such as eland, reedbuck and buffalo. The Munge River origins from the waters from the crater walls.
Empaaki Crater
Best time to visit: June-April Unique qualities: This caldera is 6km wide with half of its floor covered by a soda lake nearly 85m deep. Walking trails along the steep, forested walls of the caldera with magnificent views. Bushbucks, elands, blue monkeys and many species of birds often spotted
Olduvai Gorge
Best time to visit: Year-round Unique qualities: Place of historical significance with numerous discoveries of fossil fauna & stone tools. Famous for the discovery of the early Hominid, Australopithecus, dated around 1.75 million years ago.
Oldoinyo Lengai
Best time to visit: June-April Unique qualities: This is an active volcano that towers above the Great Rift Valley and is safest to be viewed from a distance. Unique because it sometimes erupts a highly fluid and considerably cooler lava than what most volcanoes do.