Private Tanzania Safari Itinerary
A Luxury Private Tanzania Safari Starting at $5499
The recommendations in the following itinerary serve as guidelines. Daily schedules are flexible based on your discretion and our expertise. Unlimited game-drives in private 4×4 stretched land-cruisers are naturally included. To maximize game-viewing, our itineraries are strategically designed to follow seasonal wildlife concentrations. Tours are 100% escorted; guided by top-rated, expert Naturalists with 15+ years' experience in their field in addition to having formerly worked as park rangers, biologists, and conservationists in Tanzania's National Parks.
 Tanzania Private Luxury Safari Inclusions:
All accommodations
All meals (breakfast, lunch, dinner)
All airport transfers / hotel transfers (all safaris are 100% escorted)
Tanzanian visas with VIP Meet-n-Greet Airport Service (expedited customs process)
All national park and reserve entrance fees, including special game drive permits with exclusive access
Use of a 4WD private safari vehicle, including unlimited mileage/fuel for game-drives
Private services of your expert Naturalist driver-guide • Internal regional airfare (scheduled bush flights)
Use of Nikon Action 7 x 35 binoculars while on safari
Use of charging stations in your vehicles for cell phones and camera batteries
Unlimited bottled drinking water, soft drinks and bush snacks in your vehicle
Non-alcoholic beverages (soda, juice, etc.) and non-premium Liquor/Wine/Beer at lodges & camps
Laundering services (pending venue availability)
Comprehensive support from our Tanzanian office for the duration of your safari
24-hour access to the Flying Doctor's Emergency Response Centre for medical advice and air ambulance requests should an emergency evacuation be required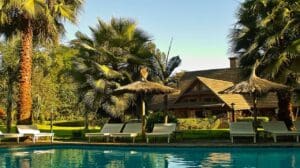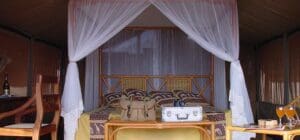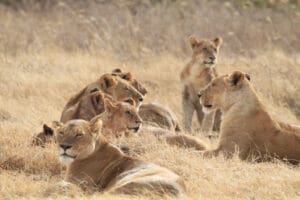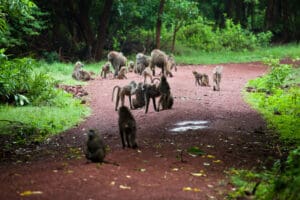 Day 1, ARUSHA: Arrival to the Mt. Kilimanjaro International Airport (JRO). VIP Meet & Greet with expedited customs process. Transfer to The Lake Duluti Lodge for dinner and overnight
Day 2, ARUSHA, OPTIONAL but RECOMMENDED: Layover day in Arusha to "decompress". Relax at the beautiful lodge with leisurely strolls through the coffee plantation, lounge by the pool, canoe around the tranquil Crater Lake, or wonder-off on a guided forest walk where you may encounter colorful birds and playful Colobus Monkeys. Optional activities to include an Arusha Town Tour and visit to the traditional African Marketplace and/or Cultural Heritage Center. Overnight at The Lake Duluti Lodge (If you don't want the layover day, then you arrive today and subtract $500.00 per person from your total)
Day 3, TARANGIRE NATIONAL PARK: Depart after an early breakfast at the lodge and proceed via road transfer (approximately 1.5-2 hours) to Tarangire National Park where you will game-drive among the varied landscapes of the park, including acacia woodland, marshland, and ancient baobab tree forest. These magnificent trees are believed to be among the largest and longest-living trees in Africa. Elephant herds can be found in abundance; it's not unlikely to see anywhere from 50-100 elephants gathered near the river's edge at one time. Overnight at The Tarangire Treetops Lodge (4pm-5pm arrival) 
Day 4, NGORONGORO CRATER: After breakfast at the lodge, game-drive en-route out of the park and proceed via road transfer (1-1.5 hours) to the Ngorongoro Crater; a unique ecosystem also known as "the eighth wonder of the world". Upon arrival at the gates of the conservation area, you will begin your ascent through a lush, green Montane forest before reaching the world's largest inactive, intact, and unfilled volcanic caldera (2000ft deep and 100sq miles). The crater formed after a large volcano collapsed on itself 2-3 million years ago, Take-in the "unparalleled beauty of one of the world's most unchanged wildlife sanctuaries" while in search of resident game such as elephant herds, lion prides, cheetahs, hyenas, zebra herds, and so much more. Overnight at The Manor at Ngorongoro (4-5pm arrival time) 
Day 5, LAKE EYASI: For those feeling up-for a wildly unique cultural adventure, we will depart with breakfast via road transfer (approximately 1.5 hours) to the Lake Eyasi region where we will spend a day with the Hadzabe Bushmen, one of Africa's original hunter and gathering tribes. These nomadic people live in the African bush, and move their "home" pending where the food source is most prominent throughout the year. They speak an ancient click-language so we will pick-up an interpreter guide who will also track ahead of us to find their location and prepare the family for our arrival. Witness or join them in ritualistic ceremonies (which involves smoking medicinal herbs) and then take-off on a hunt! (They will catch, and eat, anything from a small squirrel, to a monkey, to an antelope). You will learn first-hand about their survival techniques and get hands-on experience with their various hunting weapons (such as hand-made bows and poison arrows) and likely participate in gathering wild fruits and honey. Assuming the hunt is successful you will also learn how they prepare and eat their meals, which they may invite you to join – at your discretion, of course. (4-5pm return arrival time to The Manor at Ngorongoro) 
Day 5 ALTERNATIVE, "DOWN DAY": For those feeling a little less adventurous today, you may take full advantage of relaxing on or near the stately Manor' grounds. Activities may include: Mountain biking near or in Lake Manyara National Park, souvenir shopping/bargaining in Mosquito Village, horseback riding around the coffee plantation, relaxing poolside with an occasional dip, private picnic on the estate grounds, afternoon tea on the veranda of the estate, a game of pool in the billiard room, and deep tissue body massage / spa services 
Day 6, NDUTU WOODLANDS: After an early breakfast, road transfer to the Ndutu Woodlands of the Ngorongoro Conservation Area (approximately 1-1.5 hours). En-route to the woodlands, you may opt to visit the historic Olduvai Gorge and/or visit a traditional Maasai tribal village. Upon entering the woodlands we'll officially be deep in the heart of the African bush! Here you can expect to encounter a portion of The Great Migration of animals. 1.4 million Wildebeest, 250,000 zebras & 450,000 gazelles making their annual pass through this region for food and water. The vistas and landscapes here are remarkable, particularly during the green season, which make for terrific back-drops while game-viewing. Resident and migratory animal numbers are extremely high here at this time of year, with prides of lions up to thirty-strong lounging in the shade of the acacia trees, or clans of up-to fifty hyenas wallowing in mud holes! Predator-prey action here is non-stop during the calving season, assuring the reputation of this area as one the finest for African game-viewing. Overnight at The Lemala Ndutu Luxury Tented Camp – Ndutu  (4pm arrival time)
Days 7 & 8, NDUTU WOODLANDS & SERENGETI NATIONAL PARK: This morning we recommend an early morning game-drive to catch the nocturnal animals returning from their hunts; this is when the animals are most active and there are fewer vehicles in the bush. We will break mid-morning for a picnic breakfast, then spend the majority of the day game-driving in Ndutu. Early afternoon we will depart for the central region of the Serengeti National Park via road transfer and game-drive en-route (approximately 1 hour). The Seronera Valley is the best place for viewing lions, leopards and cheetahs year-round. Leopards can be spotted in the acacia woodlands, Cheetahs are found hunting on the open grassy plains, and lions prides are often seen lounging on rocky outcrops called "kopjes". We'll also explore the central territory for parts of the migration, massive elephant bulls, jackals, spotted hyenas, giraffes, zebras and large schools of hippos and Nile crocodiles in the Seronera River.
Optional sunrise balloon safari with champagne breakfast in the bush on Day 8. Game-drive at your leisure on your final day in the African bush, and opt to take advantage of private dining or spa services in your ultra-luxury tent (you will be assigned a private butler to tend to all of your requests). Overnight at the newest and most exclusive venue on your safari The Roving Bushtops (3-4pm arrival time on Day 7) 
Day 9: ARUSHA: After an early breakfast, game-drive en-route to the Seronera Airstrip to board a 10:00am bush flight back to Arusha. You will be greeted by the PAS Director of Sales and then transferred to your lodge. A day-room at The Lake Duluti Lodge will be arranged so you may refresh and repack. Early dinner and transfer to JRO for international departure
If you prefer to contact us directly please call (888) 629 6755 for more information on your Tanzania safari adventure.