Small Group Luxury Tanzania Safari
Tanzania Safari Sample Itinerary – $5,499
Exclusivity. Discretion. Seamless Safari Adventures.
Our luxury tours are organized to the smallest detail while providing exceptional service and attention from start to finish. Our commitment to creating and delivering unsurpassed adventures is the foundation for your seamless safari experience.
Welcome to Tanzania and enjoy the adventure!
 The recommendations in the following itinerary serve as guidelines. Adventure-filled game-drives in custom-stretched luxury safari vehicles are naturally included. Daily schedules are flexible based on your small-group's discretion and our expertise.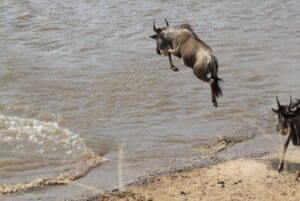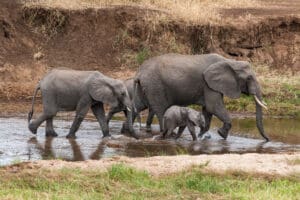 Day 1, ARUSHA: Arrival to the Mt. Kilimanjaro International Airport (JRO). Optional VIP Meet & Greet with expedited customs process. Transfer to The Lake Duluti Lodge for dinner and overnight.
Day 2, ARUSHA, OPTIONAL: Layover day in Arusha. Activities to include a half-day game-drive in Arusha National Park & Town Tour. Or, simply relax at the lodge by taking take a dip in the pool or a guided nature walk. Overnight at The Lake Duluti Lodge
Days 3 & 4, NORTHERN EXTENSION, SERENGETI: Bush flight from Arusha to the Kogatende Airstrip to game-drive the Northern Extension of the Serengeti National Park. Your first 2 days on safari will be spent in pursuit of The Great Migration in addition to viewing herds of elephants, pride of lions, jackals, spotted hyenas, giraffes, and large schools of hippos and crocodiles in the Mara River. This region is, without a doubt, the best kept secret of the Serengeti. It is twice the size of the Masai Mara game reserve in Kenya, but has fewer crowds. The vistas and landscapes are unsurpassed, which make for terrific back-drops while game-viewing. Resident animal numbers are extremely high as well, with prides of lions up to thirty strong. Migration and predator action here is non-stop, assuring the reputation of this area as one the finest game-viewing regions in Africa. Overnight at The Mara Camp. 
 Days 5 & 6, CENTRAL SERENGETI: Game-drive en-route to the Seronera Valley which is the best place for viewing lions, leopards and cheetahs year-round. Leopards can be spotted in the acacia woodlands, Cheetahs are found hunting on the open grassy plains, and lions prides are often seen lounging on rocky outcrops called "kopjes". Also explore the territory for massive elephant bulls, jackals, spotted hyenas, giraffes, zebras and large schools of hippos and Nile crocodiles in the Seronera River.  Optional sunrise balloon safari with champagne bush breakfast. Overnight at The Serengeti Sopa Safari Lodge. 
 Days 7 & 8, NGORONGORO CONSERVATION AREA (NCA) & THE CRATER: Optional visit to a traditional Maasai tribal village. Game-drives in the Ngorongoro Crater, a unique ecosystem (also known as "the eighth wonder of the world") in search of resident elephants, lion prides, cheetahs, hyenas, and more. On day 8 the group may choose from a second full-day game-driving in the crater, or, engage in a cultural day, including a visit with the Hadzabe Bushmen, one of Africa's original hunter and gathering tribes. Overnight at The Plantation Lodge. 
 Day 9: LAKE MANYARA NATIONAL PARK & ARUSHA: Morning game-drive in the forest and lake region of Lake Manyara National Park. See beautiful waterbirds, monkeys, hippos and other safari animals. After lunch, return to Arusha via road transfer. A day-room at The Lake Duluti Lodge will be arranged so you may refresh and repack. Early dinner and transfer to JRO for international departure
If you prefer to contact us directly please call (888) 629 6755 for more information on your Tanzania safari adventure.