Lake Manyara National Park is a small park in Tanzania that covers about 127 square miles (329 km2), which 89 square miles (231 km2) is covered by lake.
Lake Manyara National Park is home to a diverse set of landscapes and wildlife. With over two-thirds of Lake Manyara National Park being under water there are over 400 bird species, many of which stay all year. Flocks of pelicans and flamingos inhabit the lake and during the wet season thousands of flocks of flamingos can be seen at the lakes edge. Herons, egrets, stilts, stalks, silvery-cheeked spoonbills, crowned eagles and other species can also be found at Lake Manyara National Park.
While mostly known for baboons, Lake Manyara National Park and its environs is also home to herbivores such as hippos, impalas, elephants, wildebeests, buffalo, warthogs and giraffes. Giant fig trees and mahogany seen in the groundwater forest immediately around the park gates draw nourishment from the underground springs replenished continuously from crater highlands directly above the Manyara basin.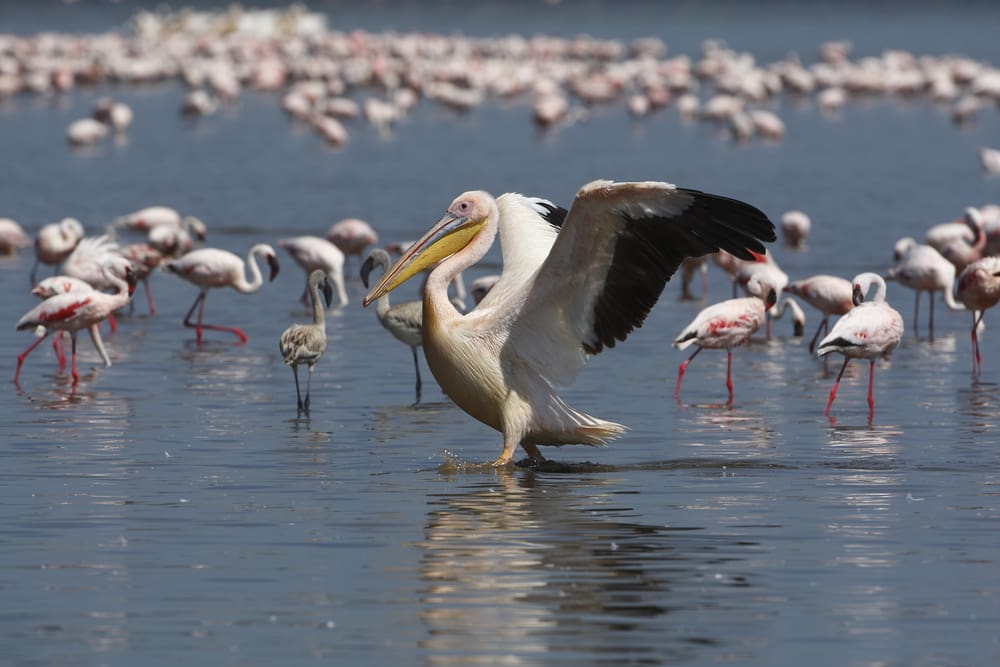 Leading away from the forest to the fringes of Lake Manyara are the flood plains. To the south the acacia woodlands are visible. Leopards, although abundant, are elusive. It can be difficult to catch a glimpse of them, and the same is true of their counterparts, the lions of this park.
With an entrance gate that doubles as an exit, the trail of Lake Manyara National Park is, effectively, a loop that can be navigated by jeep within a couple of hours. If driven slowly, this trip can be stretched a few more hours for the purpose of watching, observing and enjoying the diversity of flora and fauna. The Rift Valley escarpment forms a noteworthy landmark and provides a spectacular backdrop to Lake Manyara.