Called the eighth wonder of the world and stretching across some 8,300 sq km, the Ngorongoro Conservation Area in northern Tanzania boasts a blend of landscapes, wildlife, people and archaeology that is unsurpassed in Africa.
Home to the Maasi, Ngorongoro Crater is one of the world's greatest natural spectacles with volcanoes, grasslands, waterfalls and mountain forests its magical setting and abundant wildlife never fail to enthrall visitors.
Ngorongoro Crater borders the Serengeti National Park to the north and west. A few hours drive to the east takes you to the town of Arusha, nestled at the foot of Mount Meru, and within view of Mount Kilimanjaro. Arusha is known as the gateway to the Ngorongoro Conservation Area and the Northern Parks.
The rich pasture and permanent water of the Ngorongoro crater floor support a resident population of some 20,000 to 25,000 large mammals. They are not confined by the crater walls, and can leave freely. They stay because conditions are favorable. Since most of the crater floor is grassland, grazing animals predominate: gnu, zebra, gazelles, buffalo, eland, warthogs and kongoni (Coke's hartebeest).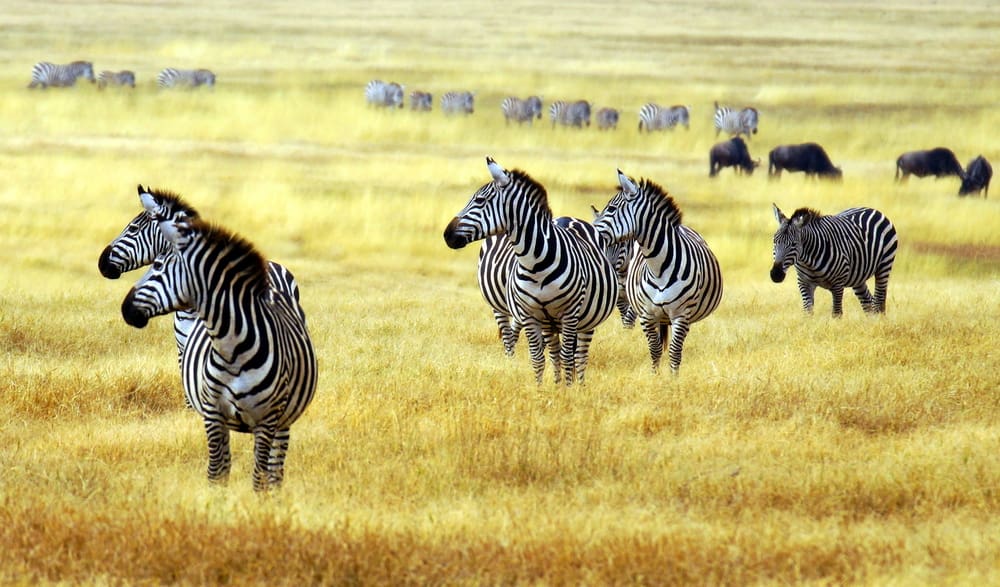 The swamp and forest region of the Ngorongoro Crater provide additional resources for hippos, some of Tanzania's last remaining black rhinos, giant-tusked elephants, waterbucks, reedbucks and bushbucks, baboons and vervets. The steep inner slopes provide a habitat for dikdiks and the rare mountain reedbuck. Towering euphorbias cling to the crater walls and on the floor. Fever tree and Fig tree forests give shade to an awe-inspiring array of creatures. All these animals in turn support large predators such as the Lion and Leopard, and scavengers such as the Hyena and Jackal.